Yes! That's Right, We Clean Dog and Cat Beds!
Is your pet's bed in need of a deep clean? We clean and deodorize dog and pet beds of all sizes.
We understand your pet gets dirty and stinky, and we want to help. Drop off your pet's bed in-store or use our complimentary pick-up and delivery service. It will be cleaned and returned within 5 business days. We look forward to seeing you soon! 
Small – $30
(A Pet 35 Pounds or Less)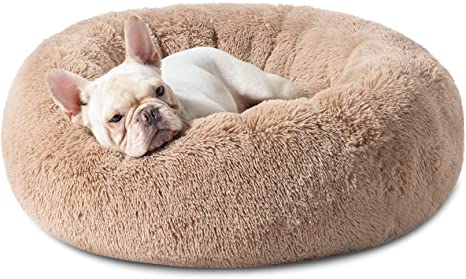 Medium – $45
(A Pet 36 to 50 Pounds)
Large – $60
(A Pet 50 to 80 Pounds)
Extra Large – $75
(A Pet over 80 Pounds)
 We're happy to pick up your pet's bed at no extra cost. Schedule a pick-up online or call 416 239 2301. We offer free pick up and delivery for our area rug cleaning service in downtown Toronto, Etobicoke, Mississauga, Oakville, and Brampton.
Did you know we offer Pickup & Delivery?
Delivery available for households and condominiums in Toronto, Mississauga, Oakville, Burlington, Etobicoke, Brampton, and More…
I've been using Gibson's Dry Cleaners for a while now, and I'm consistently impressed. The quality of their dry cleaning is top-notch, and my clothes always come back looking great. What really stands out is their commitment to eco-friendly practices. It's nice to support a business that cares about the environment.
Their prices are fair, and their pickup/delivery service is super convenient. I highly recommend Gibson's Dry Cleaners to anyone looking for quality and convenience in dry cleaning.
Gibson's is proud to use green cleaning technology. We use green dry cleaning and laundry products that are safe for your clothes, your nose, and the enviornment. 
FREQUENTLY ASKED QUESTIONS
How long will it take for my pet's bed to be cleaned?
Our pet bed cleaning service takes three to five business days. This gives us ample time to ensure the bed is cleaned, deodorized, and dried properly.  Our text reminder service will send you a text message when your order is ready. 
What size of dog beds do you clean?
How do you clean a dog bed?
We use industry-specific cleaning machines capable of cleaning dog and pet beds. Our team will review and inspect your pet's bed, spot treat if needed, and then determine the best method of cleaning and care! 
Is there an extra cost associated with pick up and delivery dry cleaning?
No our pick up and delivery dry cleaning service comes at no extra cost!
What our customers are saying…
"Gibson's is amazing! Highly recommend them. Reasonable prices, free delivery, excellent customer service
"
Check Out Our Blog: Let's Talk Textile Care
Sneakers have become more than just comfortable footwear; they have evolved into a fashion statement, a reflection of individuality. With the rise of limited-edition Air Forces and YEEZYs, sneakers have cemented themselves into mainstream and luxury fashion. For...